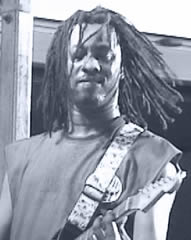 Freddie L. Everett
(June 26, 1959 - April 2, 2009)
Houston Texas Raised Guitar Player and Singer/Songwriter
Freddie Everett "The Texas Legend" is a Legend from
the Houston Music scene and his music still travels the Globe.

Freddie's Ability to perform was cut short due
to the cruel, painful, and debilitating disease called
ALS (Lou Gehrig's Disease).

...But That Would Not Stop The Musician Inside!
Freddie Kept on Making Music, using his Eyes!
Read on...

Freddie's fans always Loved and Adored him.
He was a Virtuoso, whose guitar solos would make
your jaw bruise from hitting the floor.
His kind spirit and affable nature made him loved by all.
Freddie always showed up to help
at any benefit, no matter how big or small.
SONY Records had just offered Freddie a Recording Contract.
As Freddie began studio recording, his hands
were not Responding as he wanted them to and
ultimately, he was unable to record.
Freddie was on the top of his game when he became ill.
He was one of the highest paid Houston Musicians and
he had a big house in Cinco Ranch to call Home.
Since the Disease, he and his family had lost everything.
They struggled to make ends meet in a small apartment.
Freddie was confined to a wheelchair and was totally
dependent for all his needs and care.
He also had a feeding tube and a tracheotomy which
helped his day to day life.
(Special Thanks)

With the help of erica, Freddie was able
to communicate via his Computer.
erica is also what made it possible for Freddie
to again create his music.
Freddie suffered from ALS for over 6 years.

On The Morning Of April 2, 2009
Freddie Everett Finished His Battle With The
Debilitating Disease known as ALS.

He Passed Peacefully, In His Sleep.

Please visit His Myspace at
www.Myspace.com/officialfreddieeverett
His Family would Love and Enjoy your visit!
God Bless